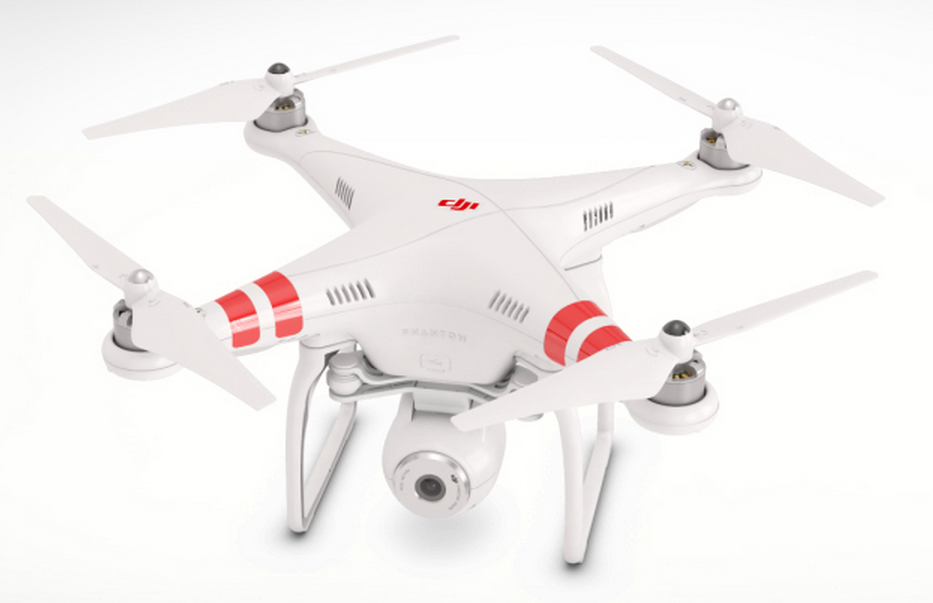 DJI Phantom 2 Vision Quadcopter
DJI Phantom 2 Vision Quadcopter
Introducing the DJI Phantom 2 Vision Quadcopter! This easy-to-fly remote control helicopter outpaces the competition with a staggering 600 meter range and a 25 minute flight time per battery. The quadcopter can fly at 33 mph forwards/backwards, and can achieve 13 mph vertical ascent.
Priced at $1199, the quadcopter puts aerial photography within reach of hobbyists and photographers. The Phantom 2 Vision's camera shots 1080p30/60i video and takes 14MP stills. The Phantom 2 Vision is easy to fly with built-in GPS autopilot. Just let go of the controls and the Phantom 2 will hover and maintain altitude so you can get the shot. If you fly the helicopter out of range, the Return-to-Home autopilot will guide the unit back to it's initial launch point and safely land.
Phantom 2 Vision App
The Phantom 2 Vision App is available for both IOS and Android smartphones. The controller features a bracket to hold most sizes of smartphones just above the controller's controls. The App provides current flight status including Attitude, Direction, Height & Speed, and distance from you. Additionally, the app provides a fpv flight display (live video feed), satellites aquired, wifi signal strength, real time battery usage, SD Card usage, and camera tilt control.
The Phantom 2 Vision App provides DSLR-like camera controls including JPEG / RAW Capture, image quality, ISO sensitivity, exposure compensation, and white balance. The App provides in-flight photo video sync from the SD Card down to your smartphone as well as social media sharing features. The RAW captured photos are in Adobe DNG RAW format and Adobe has released a lens correction profile for post processing with Photoshop and Lightroom.
The Camera lens adapter accepts 46MM lens filters for creative photography or more essential haze reduction using
a circular polarizer lens. Shop for 46MM len filters
Phantom 2 Vision Specifications
GENERAL FEATURES

Lightweight, multi-functional integrated aircraft and camera
Camera remote-control by DJI VISION App
Range Extender increases Wi-Fi distance to 300m
Anti-vibration camera platform with single axis stabilisation
Low-voltage protection
Virtual Radar aircraft locator on mobile device
Range of camera tilt options
Multiple, continuous and timed capture options
HD Video Recording (1080/p30 or 1080/60i)
RAW and JPEG picture formats

AIRCRAFT

Weight: 2 lbs 9 oz
Diagonal Width: 13.8″
Max Flight Speed: 33mph
Ascent / Descent Speed: 13mph
Battery: 520mAh LiPro
Flight Time: 25 minutes

TRANSMITTER

Frequency: 5.728GHz – 5.8 GHz
Transmitter Power: 125mw (FCC) / 25mw (CE)
Comm Range: 500m (FCC) / 300m (CE)
Batteries: 4 AA Batteries

CAMERA

Resolution: 14 Megapixels
FOV: 140° / 120° / 90°
Video Modes: 1080p 30 fps, 1080i 60fps, 960p 30fps, 720p 60fps, 720p 30fps

MORE INFO
25 minute flight time, really?
Flight time and the ability to carry a camera is what lead me to discover the Phantom 2 Vision. I had my doubts about the battery life until I watched this video from DJI's CEO Colin Guinn. He flys the Phantom 2 Vision 8 miles down Lake Austin at a speed of 19 mph to prove the battery's performance. The final flight time was 27:53 and the battery still showed 3%.
Phantom 2 Vision Operating Range
The Phantom 2 Vision controller will control the quadcopter up to 600 meters away(line-of-sight) and the heads-up fly by video live feed has a range of 300 meters. FAA limits flight altitude of civilian UAVs to 400 feet.
UAV

Commercial Applications
At first glance the Phantom 2 Vision may be perceived as a toy. The extended operating range, ability to fly in moderate wind, and long battery life open up many opportunities for commercial use including…
Aerial Real Estate Photography
Wildlife Research / Game Census
Commercial and Motion Picture Filmmaking
Oil, gas and mineral exploration and production
Sports Videography
Scientific research
Search and rescue
Forest fire detection
Land Assessment
Oil & Gas Pipeline Inspection
Offshore Oil Rig Inspection
Antenna / Communication Tower Inspection
Vegetation Growth Assessment
Utility Easement Clearance Assessment
Utility Facility Routing Assessment
Electric Grid Infrastructure Inspection
Environmental Spill Assessment
Fire Suppression
Law Enforcement Surveillance
Missing Persons Search & Rescue
Archaeology
Mapping
Academic Research
and many more…
About DJI
DJI Innovations is the global leader in developing and manufacturing high performance, reliable, and easy-to- use small unmanned aerial systems (UAS), for commercial and recreational use. The North American division of DJI is located in Austin, TX. – dji.com
The Phantom 2 Vision from DJI is a complete aerial camera system that's ready to fly within minutes. As the Phantom soars you'll be able to record 1080p video and take 14MP still photos using the live viewing and control through your iOS or Android device. Fly up to 25 minutes with the included intelligent LiPo battery and be amazed at the professional-quality aerial footage you can achieve, even with no prior experience. The Phantom 2 Vision also includes all the features you love from the original Phantom such as Intelligent Orientation Control, ready-to-fly design and advanced GPS-guided autonomous functionality unleashed through the free software available.
$590.00 USD
Phantom 2 Vision Photos
Introduction to the Phantom 2 Vision