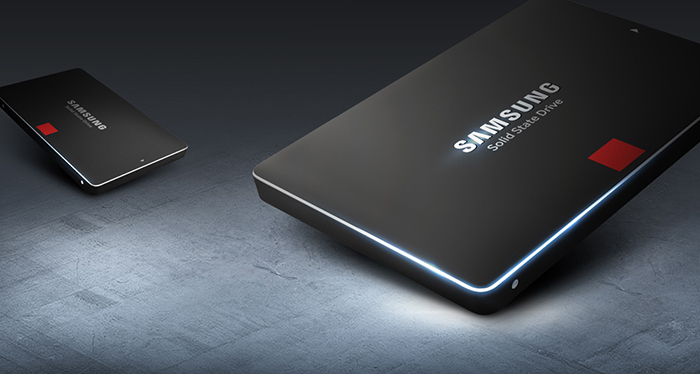 Samsung SSD – Solid State Drives
Samsung SSD – Solid State Drives
Replacing your spinning disk hard drive with a Solid State Drive is the best performance boost you can give your PC or Mac. In my opinion, Samsung SSD drives are the best choice. SSD prices have continued to drop making it an essential requirement for any new PC.

SSD 850 Pro Series
SSD 850 EVO Series
SSD 840 EVO Series
SSD 840 EVO mSATA Series
Desktop and Laptop Kit
Samsung makes a couple of kits that includes everything you need to replace a desktop or laptop drive.
The desktop kit contains a 2.5″ to 3.5″ mounting bracket, Hard Drive screws, SATA cable, and USB to SATA transfer cable. The laptop kit includes a rubber spacer that makes the drive the same thickness as most laptop 2.5″ drives, also included is a USB to SATA transfer cable
PRO vs EVO
The EVO series are considered Desktop class drives will the PRO series appears to be a bit more reliable with better performance in the lower capacity drives. The EVO series supports a feature called Rapid Mode which in my opinion makes they drive an even better performer. Rapid Mode is enabled using the SamSung Magician software which I recommend installing.
Cloning your old Hard Drive
Samsung makes a tool here that you can use to transfer your data from your old drive to the new one. I personally use Easus TODO backup's clone feature to accomplish the transfer.
SSD Performance Comparison
| Model | Capacity | Max Seq Read | Max Seq Write | 4KB Random Read | 4KB Random Write |
| --- | --- | --- | --- | --- | --- |
| MZ-7KE1T0BW – 850 Pro | 1TB | 550 MBps | 520 MBps | 100,000 IOPS | 90,000 IOPS |
| MZ-7KE512BW – 850 Pro | 512GB | 550 MBps | 520 MBps | 100,000 IOPS | 90,000 IOPS |
| MZ-7KE256BW – 850 Pro | 256GB | 550 MBps | 520 MBps | 100,000 IOPS | 90,000 IOPS |
| MZ-7KE128BW – 850 Pro | 128GB | 550 MBps | 470 MBps | 100,000 IOPS | 90,000 IOPS |
| MZ-75E1T0B/AM – 850 EVO | 1 TB | 540 MBps | 520 MBps | 98,000 IOPS | 90,000 IOPS |
| MZ-75E500B/AM – 850 EVO | 500GB | 540 MBps | 520 MBps | 98,000 IOPS | 90,000 IOPS |
| MZ-75E250B/AM – 850 EVO | 250GB | 540 MBps | 520 MBps | 97,000 IOPS | 88,000 IOPS |
| MZ-75E120B/AM – 850 EVO | 120GB | 540 MBps | 520 MBps | 94,000 IOPS | 88,000 IOPS |
| MZ-7TE1T0BW – 840 EVO | 1TB | 540 MBps | 520 MBps | 98,000 IOPS | 90,000 IOPS |
| MZ-7TE750BW – 840 EVO | 750GB | 540 MBps | 520 MBps | 98,000 IOPS | 90,000 IOPS |
| MZ-7TE500BW – 840 EVO | 500GB | 540 MBps | 520 MBps | 98,000 IOPS | 90,000 IOPS |
| MZ-7TE250BW – 840 EVO | 250GB | 540 MBps | 520MBps | 97,000 IOPS | 66,000 IOPS |
| MZ-7TE120BW – 840 EVO | 120GB | 540 MBps | 410 MBps | 94,000 IOPS | 35,000 IOPS |
| | | | | | |
Photos