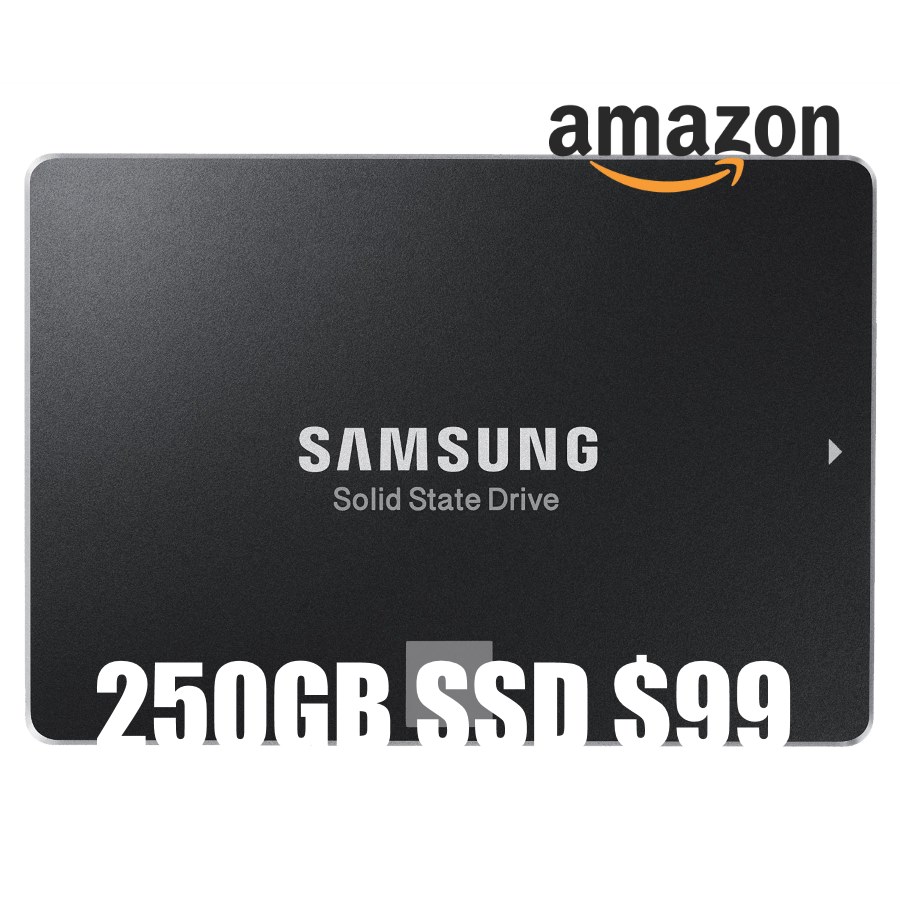 Samsung EVO 250GB SSD OnSale! Price drops below $90
Samsung EVO 250GB SSD OnSale! Price drops below $90
Samsung 250GB SSD hard drive price drops below $100 $90
It was just 6 months ago that I was buying 120GB Samsung SSD hard drives for $129. Today, Amazon is selling the Samsung EVO 850 250GB SSD hard drive for $99 $105.49. Currently Amazon has this item limited to 1 per customer.  At this price it may not last long so get one while you can.
As you can see in this chart from camelcamelcamel.com, the 250GB SSD drive has dropped approximate 25% over the last 2 weeks from around $132. Just one month ago the drive was selling for $140.  Back in December it was selling for $150. The 850 EVO is a new model that replaced the EVO 840 drive around Dec'14. If we look at the historical price of the 840 drive we can see back in Aug'14 buyers were paying $190 for the 250GB SSD drive. That's almost a 50% price drop in 6 months.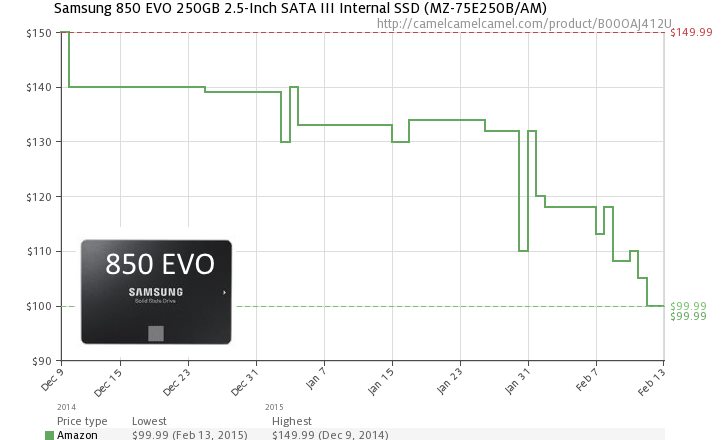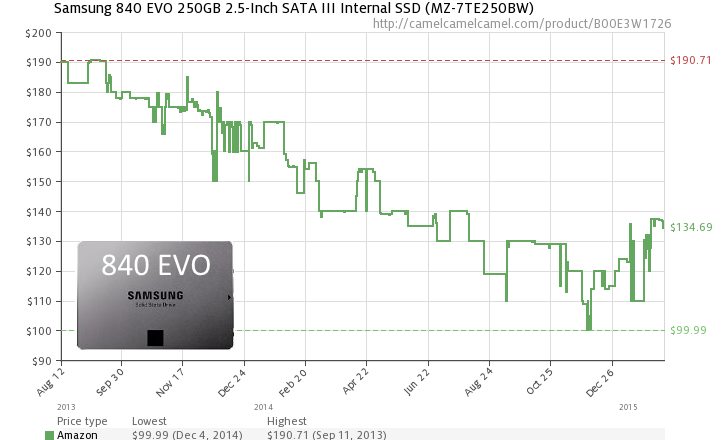 SSD Price-per-gigabyte is dropping rapidly
Is this just a sale one off sale or a trend towards lower SSD storage prices? It looks like the prices have dropped on all the Samsung SSD drives including the 1TB model.
The price of SSD Storage is not the only thing getting smaller
If you've held one of these 2.5″ form-factor SSD drives in your hand if feels like an empty shell. I've never opened one up before to look at the insides.  I can across these photos, check out the actual size of the circuit board inside these drives. I am impressed!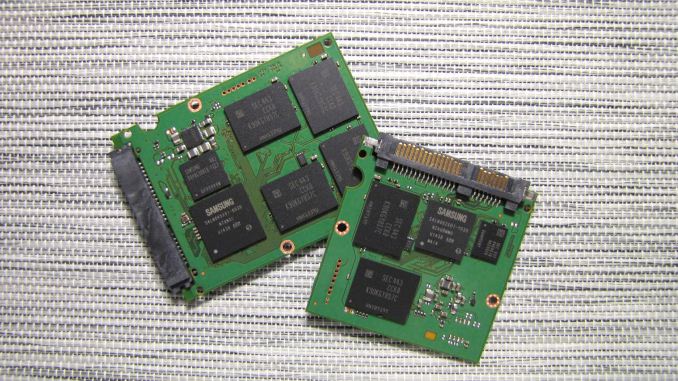 Have you switched to an SSD drive yet?
Holdouts says, I'm not switching until the price of a 1TB SSD is $199.  We'll, I would say to them, your day is coming soon.
I made the move from spinning platters 3 years ago and never looked back.  My laptop boots in under 10 seconds and I never have to wait for it.  I've tested many SSD drives and was bitten once or twice by flaky drives.  Samsung SSD drives have been 100% reliable from the very beginning.  As an IT professional, I have purchased and put over 50 Samsung SSD drives into service without one single failure.
[AMAZONPRODUCTS asin="B00OAJ412U"][/AMAZONPRODUCTS]
The Samsung 1TB SSD is $399 $357.99
, the 500GB SSD is $189 $176
, and the 120GB SSD is $74.99 $70.86
Update 8/14/2015: Samsung has now added a 2TB SSD drive to their 850 EVO Product lineup, it's currently selling for $795.
---