How to block Windows 10 Technical Preview upgrades
How to block Windows 10 Technical Preview upgrades
Microsoft just made it very simple to install Windows 10 via Windows Update.
While this seamless upgrade path is probably great news for Microsoft, IT professionals everywhere are about to discover their users are already upgrading to Windows 10!
The installation is a two step process that even novice users can follow.
Visit http://windows.microsoft.com/en-us/windows/preview-download and click "Start upgrade now". The user will be offered a 11MB file named "Windows10TechnicalPreview.exe"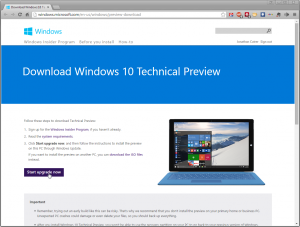 Once executed and the computer reboots, Windows 10 can be installed by simply running "Windows Update".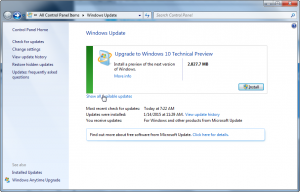 In the future, Microsoft could override the first step towards upgrade and make the upgrade automatic as it did with several versions of Internet Explorer.  As an IT Manager you will probably want plan ahead and this starts with blocking users from installing the update.   Not mention, even just users downloading the massive 2.8GB update will seriously impact your internet bandwidth.
Blocking Windows 10 upgrades with Local Group Policy Editor
Open Local Group Policy Editor by clicking Start and typing "gpedit.msc"
Expand User Configuration | Administrative Templates | System
Double click "Don't run specified Windows applications"
Tick the "Enable" box and click "Show" next to List of disallowed applications.
Add "Windows10TechnicalPreview.exe" to the list of disallowed applications and click "OK"
Execute Windows10TechnicalPreview.exe to test that it was blocked.

Note: The problem with this method is that users can simply rename the Executable file and get around the restriction. To ultimately prevent execution we need to enable AppLocker and block the executable by file hash.
Blocking Windows 10 upgrades using AppLocker
Open Local Security Policy by clicking Start and typing "secpol.msc".

Expand Application Control Policies | AppLocker.
Click then Right click on "Executable Rules" and choose "Create New Rule".

Click "Next", Select "Deny" and then click "Next" again.

Choose "File Hash" for the condition and click "Next".

Click "Browse Files…" and choose the Windows10TechnicalPreview.exe file.

Click "Next" and optionally add a description.

Click "Create" and answer "Yes" to create the default rules.  When prompted, answer "Yes" to create the default rule set.


Click AppLocker in the left pane and then click "Configure rule enforcement"

Check the "Configured" box under Executable rules and choose "Enforce rules"

Click OK to finish and reboot the computer to test the AppLocker rule.

IT Departments everywhere will eventually adapt Windows 10 but this undertaking comes after much compatibility testing.
Reference Articles