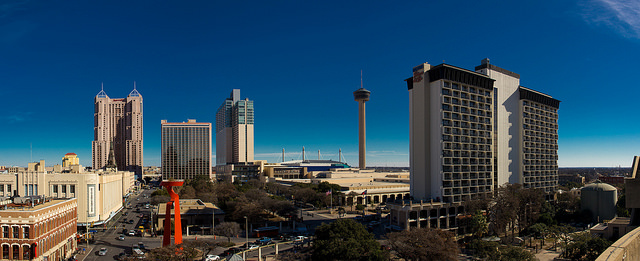 Royalty Free Photos of Downtown San Antonio, Texas
Royalty Free Photos of Downtown San Antonio, Texas
A collection of photos I've taken, in and around downtown San Antonio, Texas.
Many of the shots are high-resolution panoramic photos stitched together using Microsoft's ICE software. Be patient after clicking on the photo it's loading the original full resolution size. When previewing the image you can right click and save the photo or there is a link below the gallery to downnload all photos on this page in one zip file. All photos on this page can be used royalty free under the Creative Commons Attribution-Sharealike license.
---

This work is licensed under a Creative Commons Attribution 4.0 International License.

You are free to use the photo(s) on this page under the above license. If you are not familiar with Creative Commons please read How to use my photos


---
Tips for using
my photos are graciously accepted!
---
Keywords: San Antonio, Texas, Riverwalk, Downtown, Skyline, San Antonio Photos, Panoramic Skyline, The Alamo, Emily Morgan Hotel, Tower of Americas, Mission Concepcion, royalty free, free photos
---