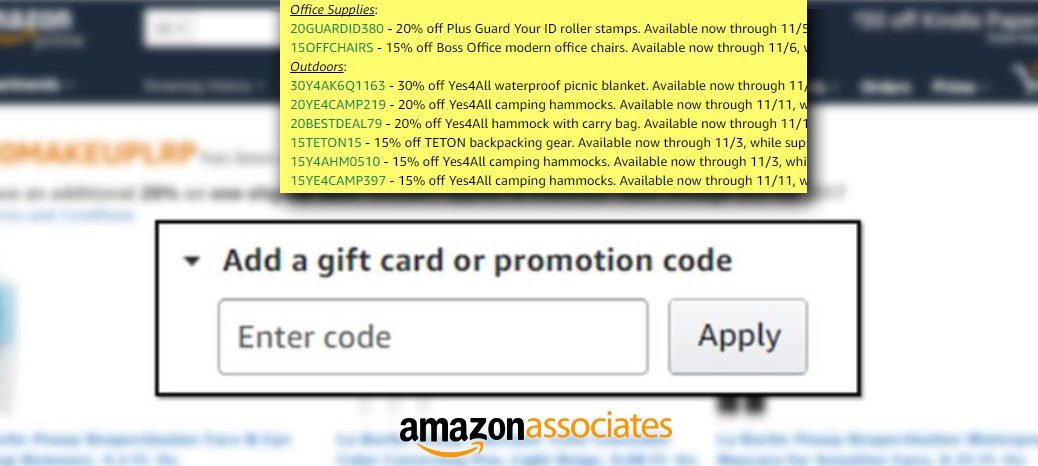 Amazon Associates: Building Affiliate links to Amazon Promo Codes
Amazon Associates: Building Affiliate links to Amazon Promo Codes
Amazon has announced that Amazon Associates (Affiliates) can now monetize promo codes & coupon codes as affiliate links.  When used by shoppers, Amazon Promo Codes typically apply a percent off discount to products. Promo Codes are time-based so you will only want to offer the link while the promo code is still valid.
Generate Promo Code links via the SiteStripe bar
Navigate to the Promo Code page
Click Get Text link from the SiteStripe bar
Right-click and Copy the generated affiliate link

Generate Promo Code links by appending your Associate ID to the url
The above technique gives you access to the shorten (obuscated) url. In certain situations you may want to just append your associate id to the promo url. You can see how the url should be composed by clicking the Full Link option in the previous example.
For Example, the url…
https://www.amazon.com/gp/mpc/A13KVL6YNJG635
would be monetized with your associate ID as…
https://www.amazon.com/gp/mpc/A13KVL6YNJG635/?tag=jcutrer-20
where jcutrer-20 is my associate id
Where to Find Promo Codes to Monetize
Amazon says Associates should check this page for current promo codes that you can monetize as affiliate links.  Associates can also work directly with manufacturers and sellers to obtain early access or unique promo codes.
Additional Recommendations
Offer Promo Codes to U.S. Customers Only (This feature has not been made available for international AmazonAssociate programs)
Communicate 'limited time offer' when presenting the promo code and remove expired promo codes in a timely manner.
Link to the promo code page (not the product page) as shown above (This will ensure that the discounted price will be displayed correctly)