Giveaway: Enter to Win a WD Blue 250GB Internal SSD Solid State Drive

Samsung releases magician command line tool for linux – Samsung SSD drives
Magician DC
Magician is Samsung's disk management and diagnostic software for it's line of SSD solid-state drives. Magician allows you to benchmark your drive, upgrade firmware, check S.M.A.R.T, configure drive encryption, and over provisioning. Until now, this tool has only been available on Windows PCs, today the linux command line version of Magician is available and supports linux distros RHEL, CentOS, and Ubuntu.
Samsung describes this new tools as follows.
Samsung SSD Magician DC software is designed to help users with easy-to-use disk management and diagnostic features for server and data center usage. This software is only for Samsung SSD products.
Samsung Magician DC Features
List – Detect list of attached Samsung SSD Drives in the system
Firmware Update – Update the old firmware of the SSD to the new version
Erase – Erase data on the SSDby issuing an ATA Format Unit command
Overprovision – Resize the user capacity of the SSD
TRIM – Issue trim command to the SSD
S.M.A.R.T – Display smart information and log temperature of the connected Samsung SSD drive, and estimate the lifetime of Samsung SSD
SET MAX – Set the maximum address of the Samsung SSD to change its user capacity
Write Cache – Enable/disable the write cache of the Samsung SSD
SCT Cache Status – Get SCT write cache state of the disk.
Disk Info – Display current overprovisioning value, current set max value, state of write cache etc. of specified Samsung SSD
Command History – Display history of the previously executed commands
Help – Display the command line options
Understanding SSD Over Provisioning
The most important thing you can do to increase the reliability and performance of an SSD is to over provision some space at the end of the drive. This simple task is often overlooked, ignored, or plain misunderstood. Over Provisioning is leaving raw unpartitioned space at the end of the drive so that the SSD controller can remap data from worn memory cells on the SSD hard drive. Samsung recommends a 10% over provisioning rate so on a 250GB SSD drive you should have 23.85GB of OP space reserved.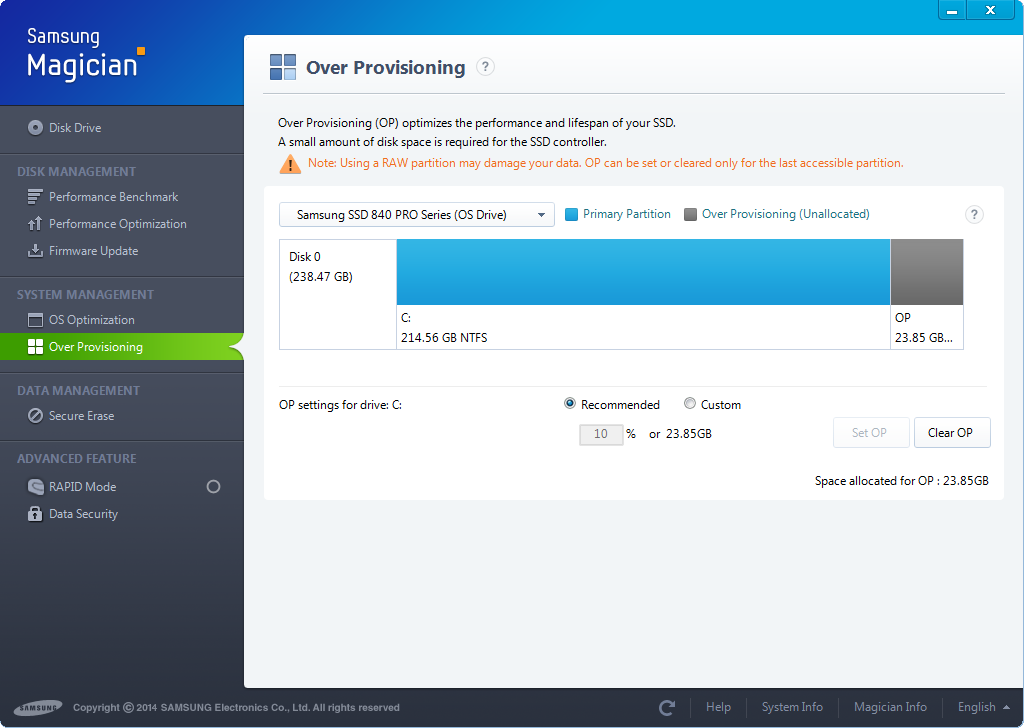 magician command line usage and switches
See Users Guide link below
Current supported drive models
Samsung SSD 845DC PRO
Samsung SSD 845DC EVO
Samsung SSD 850 PRO
Samsung SSD 840 PRO
Samsung SSD PM853T *
Samsung SSD SM843T *
Samsung SSD SV843 *
(* : Limited support " Cannot update FW)
Reference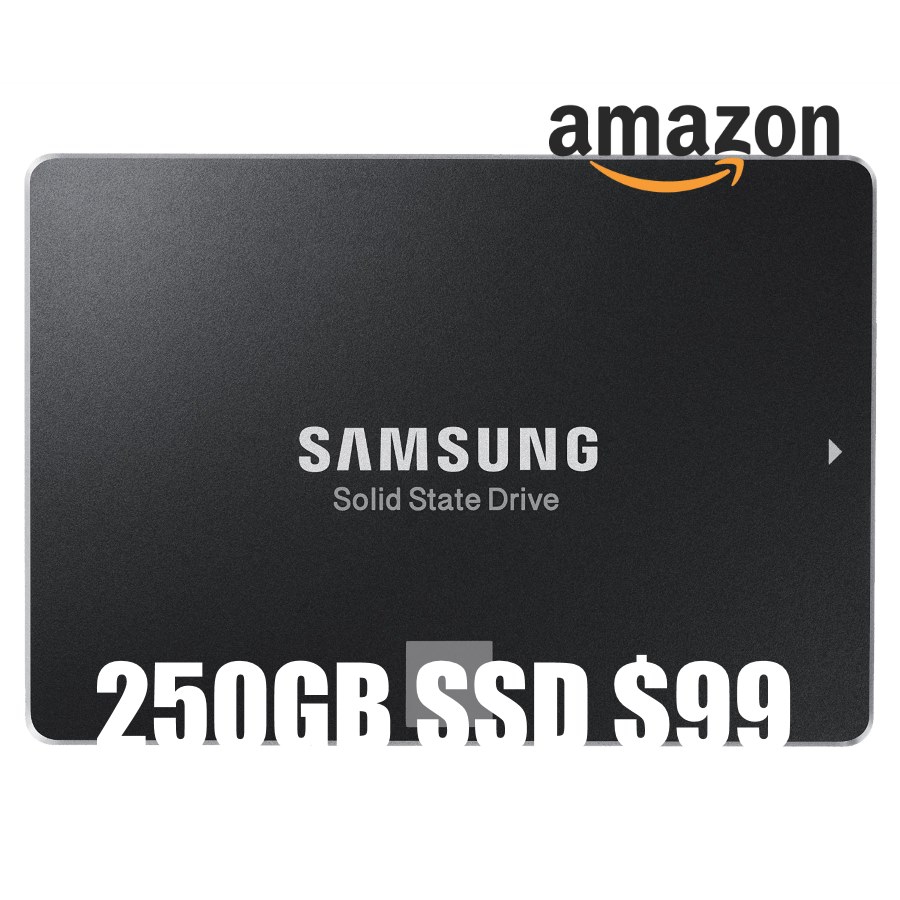 Samsung EVO 250GB SSD OnSale! Price drops below $90
Samsung 250GB SSD hard drive price drops below $100 $90
It was just 6 months ago that I was buying 120GB Samsung SSD hard drives for $129. Today, Amazon is selling the Samsung EVO 850 250GB SSD hard drive for $99 $105.49. Currently Amazon has this item limited to 1 per customer.  At this price it may not last long so get one while you can.
As you can see in this chart from camelcamelcamel.com, the 250GB SSD drive has dropped approximate 25% over the last 2 weeks from around $132. Just one month ago the drive was selling for $140.  Back in December it was selling for $150. The 850 EVO is a new model that replaced the EVO 840 drive around Dec'14. If we look at the historical price of the 840 drive we can see back in Aug'14 buyers were paying $190 for the 250GB SSD drive. That's almost a 50% price drop in 6 months.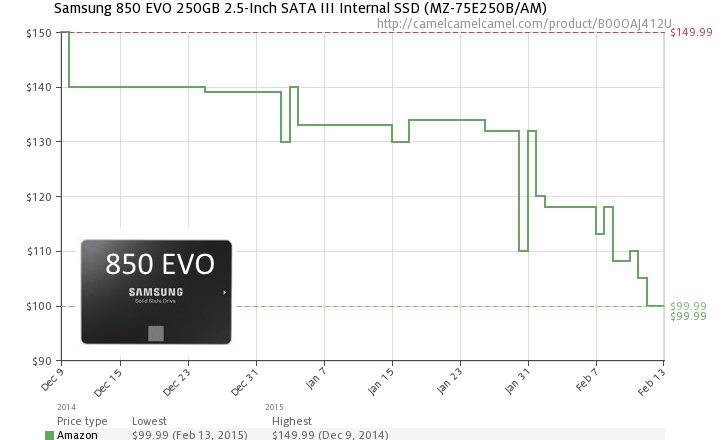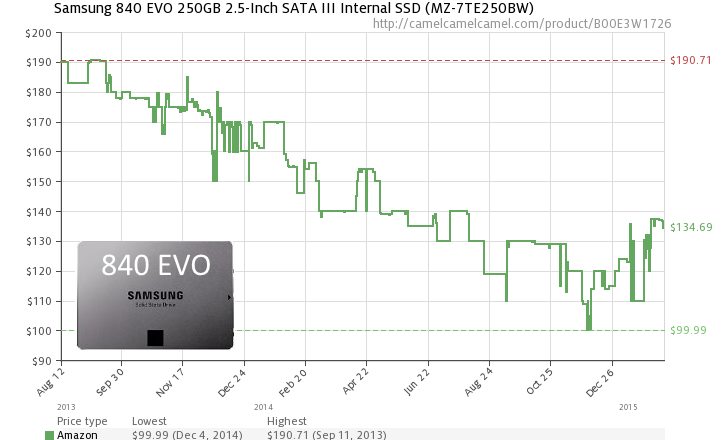 SSD Price-per-gigabyte is dropping rapidly
Is this just a sale one off sale or a trend towards lower SSD storage prices? It looks like the prices have dropped on all the Samsung SSD drives including the 1TB model.
The price of SSD Storage is not the only thing getting smaller
If you've held one of these 2.5″ form-factor SSD drives in your hand if feels like an empty shell. I've never opened one up before to look at the insides.  I can across these photos, check out the actual size of the circuit board inside these drives. I am impressed!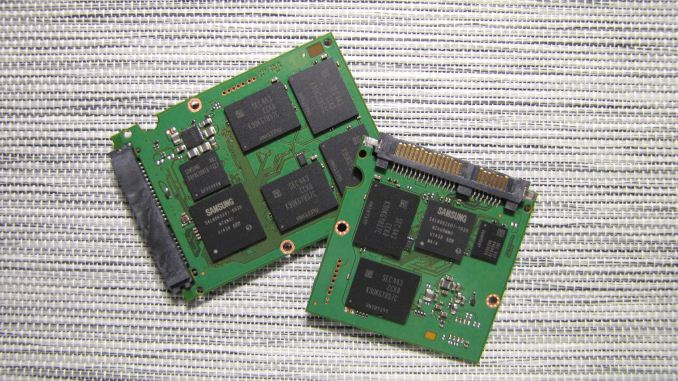 Have you switched to an SSD drive yet?
Holdouts says, I'm not switching until the price of a 1TB SSD is $199.  We'll, I would say to them, your day is coming soon.
I made the move from spinning platters 3 years ago and never looked back.  My laptop boots in under 10 seconds and I never have to wait for it.  I've tested many SSD drives and was bitten once or twice by flaky drives.  Samsung SSD drives have been 100% reliable from the very beginning.  As an IT professional, I have purchased and put over 50 Samsung SSD drives into service without one single failure.
The Samsung 1TB SSD is $399 $357.99
, the 500GB SSD is $189 $176
, and the 120GB SSD is $74.99 $70.86
Update 8/14/2015: Samsung has now added a 2TB SSD drive to their 850 EVO Product lineup, it's currently selling for $795.