How to uninstall Groove Music app in Windows 10 without PowerShell
How to uninstall Groove Music app in Windows 10 without PowerShell
Just like the built-in Xbox app on Windows 10, Microsoft provides no easy way to uninstall the Groove music app. There are tons of articles that use PowerShell to remove these built-in apps, the command looks like this.
Get-AppxPackage *zunemusic* | Remove-AppxPackage
In this article, I will show you an easier way using a tool you may already have installed. Ccleaner, a popular free software utility for Windows has useful tools built in including Uninstall. Ccleaner is free, if you don't already have it you can download and install it from here.
Here are the steps to uninstall the built-in Groove Music app in Windows 10.
Launch Ccleaner and click on the Tools menu.
Find and highlight the Groove Music app in the list of installed applications
Click "Uninstall" and confirm.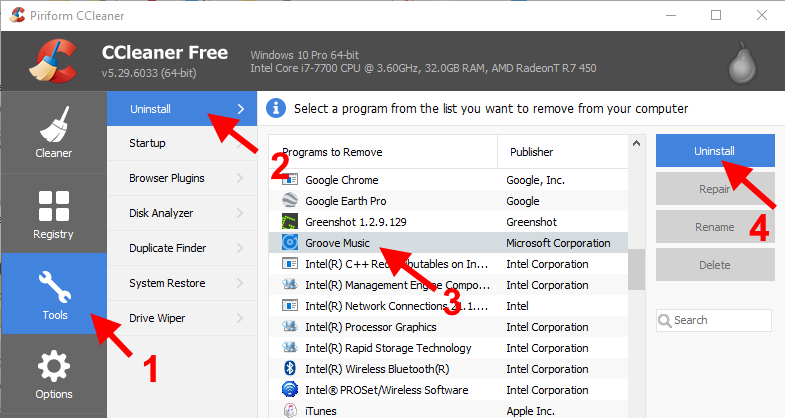 That's it! No PowerShell, no terminal windows, just point and click. :) You can use the same technique to uninstall other Windows 10 built-in apps including Xbox, MSN Money, MSN Weather, Bing Maps. Do you have another technique you use to uninstall Windows 10 apps? Leave a comment below or read more Windows How to Articles
References