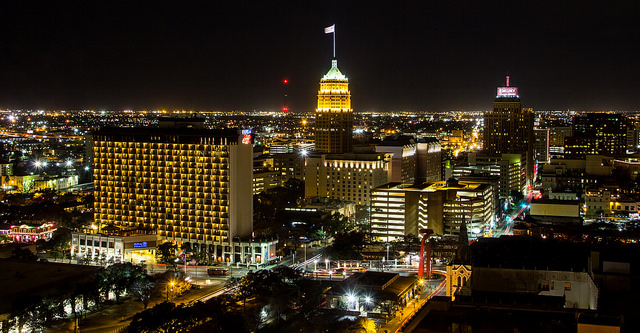 Downtown San Antonio Panoramic Photos
Downtown San Antonio Panoramic Photos
A collection of photos I've taken, in and around downtown San Antonio, Texas. Many of the shots are high resolution panoramic photos created using Microsoft's ICE tool.

Downtown San Antonio, Texas

San Antonio Downtown Panoramic – The Building in the left is Robert E Lee Apartments once operated as a hotel, on the far right is the Embassy Suites Riverwalk.

San Antonio Skyline at Night

Downtown San Antonio at Night

San Antonio Skyline at Night #2

San Antonio Skyline

Street Scene in front of the Menger Hotel

The Menger Hotel at Night

Downtown San Antonio

Downtown San Antonio

San Antonio Riverwalk Panoramic

San Antonio Riverwalk

Omni La Mansion del Rio

Downtown San Antonio Night Shot
Keywords: San Antonio, Texas, Riverwalk, Downtown, Skyline, San Antonio Photos, Panoramic Skyline, The Alamo, Emily Morgan Hotel, Tower of Americas, Mission Concepcion